I've been anxiously waiting to have in-studio classes for what seems like forever, so I'm excited to announce the schedule for Fall and Winter workshops! Lots of different things are planned for everyone from beginners to the pro.
If you don't see what you're interested in learning here, give me a shout and we can plan a private or semi-private workshop customized to your needs.
Abundant Blessings
September 11, 10 a.m. – 2 p.m.
$65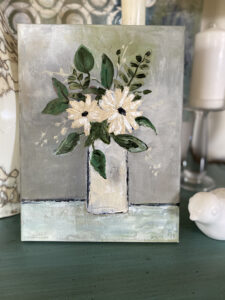 I promise this is a workshop every woman will enjoy! Bring your momma, sister or friend and join me for a day filled with beautiful creativity. Paint a perfectly imperfect floral canvas, hand painted papers and learn some simple stitching. There will be a light, French picnic style lunch to enjoy too.
Limited seats available.
Fresh, Fab & Fast
September 24, 9 a.m. – 4 p.m.
$275
Learn at least six fresh new wall finishes that use minimal layers, on trend colors and embrace the perfectly imperfect vibe. We'll be using a variety of Faux Effects products including the new Wall Silk, NuVilla and FauxCrete .
On Trend Layering Paint for Cabinets & Furniture
October 8, 9 a.m. – 4 p.m.
$275
Faux Effects Layering Paint is an easy-to-use product for creating looks ranging from rustic to glam. Learn the correct prep steps along with painting tips and techniques to refinish cabinets and furniture. Get recipes and complete six samples to take home. For beginners – pros.
Simple Shelters
7 p.m. – 9:30 p.m.
$40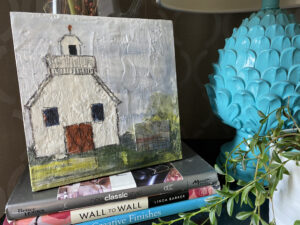 I'll be teaching some of my tried and true secrets to create a charming painting of your favorite shelter. Whether it's a home, shack, barn or church, I'll walk you through the process to transfer the image onto a canvas then add color and lines with paint, plaster and simple tools. For beginners – pros
Registration will open for each in-studio workshop on Monday, Aug. 9. Make sure you register to receive email updates here: https://michellebergman.com/
I can't wait to spend time creating with you!